The York Bench & Chair
Classically styled, based on strength & durability.
The York range of quality memorial benches and classically designed seats are built from solid sections of timber, with traditional mortise and tenon joints used throughout. This solid wooden outdoor bench is an ageless design; made for comfort and strength. The hardwood bench is available with flat or contoured arms. Larger models or the York bench are available fitted with a centre leg if required.
The York wooden memorial bench is a perfect piece, which can be be engraved by Woodcraft and used as a commemorative seat, wooden park bench, allotment seat and a simple wooden garden bench.
The York Chair
With its compact design, clean lines and sturdy construction, the York outdoor chair is an attractive and comfortable companion to the York Bench. It is a smart and comfortable enhancement to any setting, be it a modest domestic garden for single seating or the extensive grounds of a public building, encompassing a larger volume of outdoor chairs and armchairs.
As comfortable as it is attractive, the York chair is a smart and sturdy addition to any garden – domestic or public. All models are available with alternative shaped top rails if preferred, and with a choice of flat or contoured arms. Standard seat length 24in (610mm).
Size options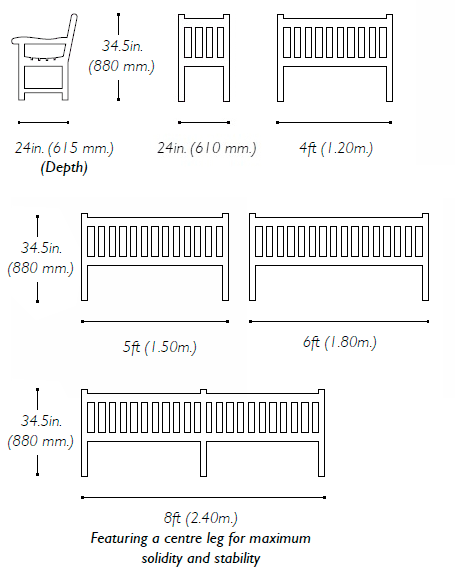 Top Rail options

Rail option A: Extra deep rail (takes up to 4 lines of inscription)

Rail option B: Curved rail (takes up to 3 lines of inscription)

Rail option C: Raised rail (takes up to 4 lines of inscription)
Standard wooden seat lengths:
4ft (1.2m), 5ft (1.5m), 6ft (1.8m), 8ft (2.4m), 8ft (2.4m) with centre leg.
| | |
| --- | --- |
| CHAIR | £212 |
| ARM CHAIR | £264 |
| 4' BENCH (1.2m) | £558 |
| 5' BENCH (1.5m) | £612 |
| 6' BENCH (1.8m) | £676 |
| 8' BENCH (2.4m) WITH CENTRE LEG | £896 |
Please note: All prices are subject to VAT.